Start Looking Forward to Your Period
Do you dread getting your period?

You don't have to!
The My Club Red period self-care subscription box delivers menstrual-cycle-supporting comforts, goodies, education, and the latest period care products to help turn that time of the month from "yikes" to "yay!"
Put your hormone health into focus through supportive period care products in this one-of-a-kind box designed to create a monthly mini-retreat while you bleed.
Ready to transform your period?
Each box contains 4 - 5 mystery items, different each month, hand-picked by period coach Elizabeth Tidwell. Or choose a My Club Red MINI subscription with 2 - 3 period self-care products. Items are hormone-friendly and support your cycle and period experience.
Choose Your Period Transformation
Regular price

$50.00

Sale price

$45.00

Unit price

per

Regular price

$48.00

Sale price

$43.00

Unit price

per

Regular price

$25.00

Sale price

$22.00

Unit price

per
"The box exceeded my expectations! When you get fun products like this, it's a gentle nudge to go rest and I really loved the quality of the products. I was so happy with it! Imagine being excited to get your period. That's what this box felt like--I couldn't wait to get my period. How fun is that??"

-Karen

My Club Red subscription boxes are designed to be an invaluable resource while you menstruate, a nourishing support. 


A box that goes beyond pampering and encourages deep transformation in how your mind and body are supported on your period and beyond. 

A monthly experience of radical rejuvenation, capitalizing on the natural rest phase of your monthly hormonal cycle.

An avenue for awareness, understanding, body literacy, and self-connection. 




Every month a box full of reasons to actually look forward to your period!

"I might have to subscribe to 3—one for myself and each of my daughters. We had a great time unboxing the products and discussing periods, self care, hormone cycles, and managing period symptoms. It is obvious each product is carefully chosen, including organic, eco friendly period products. It's the first time I've had fun talking about my period with my daughters!"

-Shelli
What will you get in your box each month?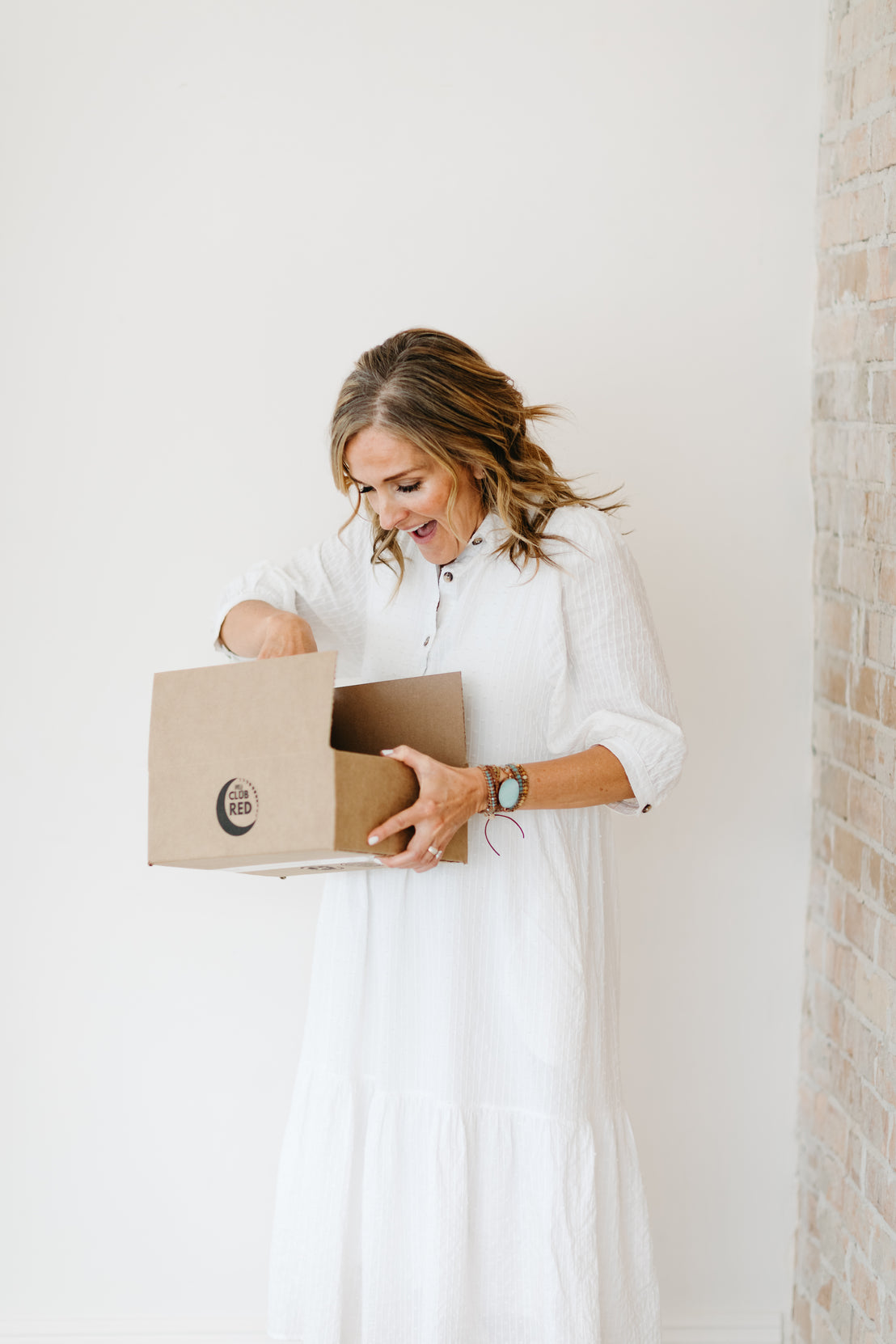 Inside your My Club Red box, you'll find a mix of items in categories such as:

🔺Edible items that support menstrual health like tea, chocolate, tonics, adaptogens, beverages, supplements, snacks.

🔺Pain relief items like period patches, lotions, herbs, essential oils, balms.

🔺Supportive self care nudges like sleep masks, dry brushes, body oils, bath products.

🔺Menstrual hygiene care like organic or sustainable tampons, pads, and more.

🔺Empowering additions like affirmations, art, stickers, books, activities.

🔺Digital deliverables like cycle-syncing exercises, Yoga Nidra recordings, menstruality education.

🔺Monthly menstruality education in a gorgeous online magazine exclusive to My Club Red subscribers.

I can't wait to deliver this box to your doorstep and help you create a meaningful ritual around menstruation.
I'm Ready To Transform My Period!
Here's How It Works
Select Your Subscription

Choose a monthly option, a 3-month period transformation, 6 months of supported cycles, or the monthly MINI subscription.

Eagerly Await Delivery

Every month, your box will ship out the first week of the month. Start imagining your monthly mini-retreat!

Enjoy a Better Period!

Open your box when your next period starts and enjoy caring for yourself on a deep level with each supportive item.
This box is for you if...
🔺You think there might be a better way to experience your period.
🔺You would love to discover new period care products and reduce troublesome period symptoms.
🔺You know you need to incorporate better self-care while you menstruate.
🔺You don't know exactly what your body needs while menstruating but would love to learn.
🔺You want to prioritize your overall health, balancing your mind, body, and emotions--throughout your menstrual cycle!
🔺You want to connect with your cycle and understand its impact on your daily experience.
🔺You care about what products you put on and in your body, but don't want to spend hours researching every single ingredient in every single product from every single company.
🔺You want to experience your period as a time of rest, self-care, and self-connection, grounding your entire menstrual cycle month with a gift of pampering and a nourishing pause.
"I am obsessed with everything about My Club Red! I have tried other subscription boxes before but the products included never seemed worth the cost. That is not the case with My Club Red. I have used everything I've received in my box and they have helped me relieve some intense menstrual symptoms. Every product included is organic and carefully curated to ensure you have the best month possible. I am going to be purchasing again and again. Do yourself and your body a favor and subscribe to this monthly service. You'll find yourself looking forward to your period!"
-Caitie

 "I loved receiving a My Club Red box! It was fun and exciting to look forward to its arrival, both not knowing exactly what I'd receive and looking forward to receiving products to help support me and my cycle. I loved receiving the Rhythm chocolate and enjoyed having a treat set aside for my period. I also liked receiving self care items that inspired me to take intentional time to rest and pamper myself."

-Joy
The choice is yours...
Regular price

$50.00

Sale price

$45.00

Unit price

per

Regular price

$48.00

Sale price

$43.00

Unit price

per

Regular price

$25.00

Sale price

$22.00

Unit price

per
FAQ
Is My Club Red a good fit for me if I have an irregular period?

Since you have control over your subscription (pause, skip a month, cancel), YES, My Club Red is for you!

Of course you won't know ahead of time if your period will be very late, but you can adjust your subscription settings whenever you'd like.

Was last month's period MIA and you didn't use last month's box? Skip this month and use last month's box when your period does arrive!

Also, did you know that simply tracking your cycle may actually help regulate it?

You just might find that as you incorporate My Club Red period self-care boxes into your routine, it may help reinforce the message from your brain to your body that you're ready for your period to arrive every month!

And not only might the *habit* of My Club Red help regulate your cycle, the hormone-friendly *products* will lend lots of support as well.

(This is not medical advice and it's still important to identify the root cause of irregularity.)

Also, many of the full-size products will last well beyond one regular period, so you will be able to deliver the period self-care you need if your bleeding phase is extra long one month, or you get a surprise extra period, or your cycle is shorter than a month.

And many of the items can be used outside of just your bleeding phase, too!

With our hormone-friendly products, you may find a My Club Red subscription is a wonderful fit for your irregular period.
Is My Club Red a good fit for me if my periods aren't a hard time, but I struggle with PMS?

Absolutely!

Open your My Club Red box and make space for self-care at whatever point in your cycle you most need the support.

Everyone's cycle experience is different, and if you continually find you're struggling at the same point of the month most cycles, and it's not your period, definitely add My Club Red support when YOU need it most.

My Club Red can be your PMS support package, or your pre-ovulation grounding self-care, or your ovulation self-connection gift.

The hormone-friendly self care items will be supportive at every point in your menstrual cycle, and they'll also be supporting your body beyond the immediate care by helping reduce your toxic load.

Something we all need daily, not just while we bleed.

You may find that adding this box full of self-care ritual at YOUR most challenging time of the cycle helps ease some of the struggle for you.

Often, what our bodies and psyches need most are loving care and attention, so don't worry about doing My Club Red "the right way"—

Remember that the best right way is simply what supports YOU best when you need it most.
Is My Club Red a good fit for me if I don't have painful or challenging periods?

Yes, My Club Red is for you! You don't have to struggle with your period in order to make it better.

My Club Red exists to help deepen your connection with your menstrual cycle. To enhance your period care by adding products and practices that transform that time of the month into a time of self-connection and self-nurture.

To help you explore products that are free of endocrine-disrupting chemicals so your hormones will be supported.

My Club Red is here to elevate your period experience, whatever it is!

Every month with each new period we get another chance to deepen our self-knowledge and period self-care.

My Club Red helps you consistently make space for self-nurturing ritual while you menstruate, month after month.

I've found that many menstruators who have a neutral or good period experience simply leave it at that, and may not lean into elevating their period care—

Not realizing that there's more self-connection to be found by intentionally embracing mindful menstruation.

Month after month, your period experience could transform into a time of radical rest, heightened intuition, vital rejuvenation, and so much more.

There's room for every menstruator in My Club Red, whatever your period experience!
Is My Club Red a good fit for me if I'm trying to conceive?

It's totally up to you! If it sounds like it would be a welcome addition to your life right now, awesome. If it doesn't, no worries!

We never know how long it will take to conceive. It might be immediate, it might be a while.

For me personally, we tried for a year before getting pregnant. And getting my period while trying to conceive was always a big bummer, but maybe getting this box would have softened and reframed my emotional interpretation of getting my period while trying to conceive.

So it might actually be an extra special time to connect with your period!

Most items in the box are versatile and can be used for self care beyond just on your period, and might actually be really nice if you do get pregnant quickly.

So there's no wrong answer! The best right answer is personal to you and your intuition. And a big congratulations on this exciting time in your life!
Logistics FAQ
When can I expect my monthly My Club Red box?

We ship your box to you during the first week of each calendar month. This window allows me to honor my own cycle in case my period arrives when it's time to pack your boxes.
When do subscriptions renew?

All subscriptions are set to automatically renew. For month-to-month subscribers, payments process on the 11th of each month. For 6-month and 12-month subscribers, payments process on the 11th of your subscription anniversary month. For example: If you purchased a 6-month subscription in February, your next payment will process on the 11th of August.
Is there a commitment or can I cancel my subscription anytime?

No commitment; you can cancel your subscription at any time. Please note: cancellation requests must be received 14 days before your billing date (11th of the month) or you will be charged for the following month.

If your card has already been charged for that month, you will receive that month's box but your subscription ends after that shipment. If you cancel your 6 or 12-month subscription before your term is complete, you will continue receiving the remainder of the boxes you paid for when you subscribed. Your subscription will not renew.
Why is shipping $9.95?

We strive to be as transparent as possible and it comes down to this: shipping costs have risen across the country. Instead of raising the price of the box to cover shipping, we opted to be transparent about what portion of your costs go toward getting your box to your door.

My Club Red boxes are big and full of quality items! Each box contains a variety of 4-5 full size products, different each month, so we opted for a flat rate that offsets shipping fees without adding too much more to your costs. $9.95 doesn't cover the full cost of shipping, but we cover any overages.

*$9.95 shipping to the contiguous United States. For other states and territories, shipping prices vary.
What's the difference between the My Club Red subscription and the My Club Red MINI subscription?

Just the number of products included in each month's box. My Club Red subscription includes 4-5 items; MINI includes 2-3. Both include access to the My Club Red Subscriber Digital Library of online menstruality education and virtual supports. Same period transformation, smaller dose!
Company FAQ
How do you evaluate if products are hormone-friendly?

I only include items whose entire ingredients list scores a 1 or 2 (both are in the "Best" category) on the Environmental Working Group's Skin Deep ratings or are EWG Verified. 

Yes, I look up every single ingredient. 

There are many products I will not include in My Club Red in order to preserve our highest standard of hormone-friendly ingredients. 
What eco-friendly business practices do you employ?

Our boxes are made of 100% post-consumer recycled cardboard and are of course fully recyclable. I use paper tape instead of plastic, and because I believe in extending the life of anything that I possibly can, all of the packing materials inside the box are on their second life too!

Any shreds or protective packing materials are reused from the packing materials that are shipped to me when I order your products.

Nothing is wasted, much is reused, the rest is recycled or given another life elsewhere! When your My Club Red box arrives, you can then reuse the box and packing materials yourself or recycle them.

I also opted to include additional supports digitally in order to avoid unnecessary paper and ink usage.
Is this box inclusive?

My Club Red aims to include all menstruators from menarche to menopause. While some products I curate may indicate a female user, I am committed to making space for everyone with a period.

My Club Red isn't limited to or focused on the female experience; instead, we're dedicated to menstruation and all those with a menstrual cycle.
How can I suggest an item for upcoming boxes?

We love to hear from you, and we certainly love to hear about what you'd like to see in your boxes!

Simply fill out the form on the Contact page.